The TAP ethos is to provide efficient and exceptional client service.
The name of our business was deliberately chosen to represent the relationship we want to have with each of our clients. We work in partnership with every client to help them comply fully with their tax filing responsibilities, and ensure they pay the right tax, at the right time. In addition we will consider each client's circumstances and advise on any opportunities there might be to legitimately reduce exposure to tax in the UK or elsewhere.
We value our clients' feedback and we want to continually improve the services we provide. So, in order to help us check that these standards are being maintained, we carried out our first annual TAP Client Survey in December and were delighted to receive a response from over a third of our clients.
We have reviewed each response and will be taking action on all points raised as appropriate, in order to ensure we continue to maintain our high service levels to our clients' satisfaction.
We cannot share individual responses to the survey but can share certain Client Service feedback as follows: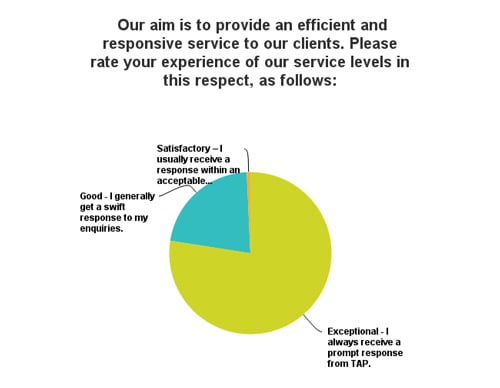 77.46% of respondents felt our services levels are exceptional and that we provide a prompt, efficient and responsive service.
21.83% agreed we were good at this and generally received a swift response to their enquiries.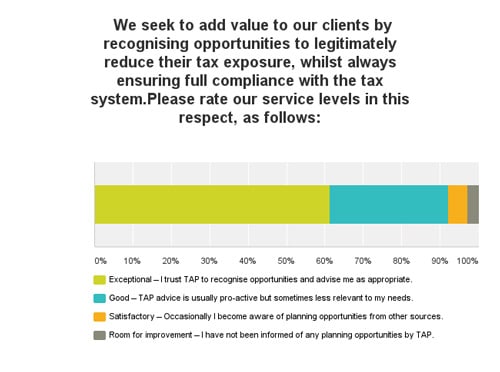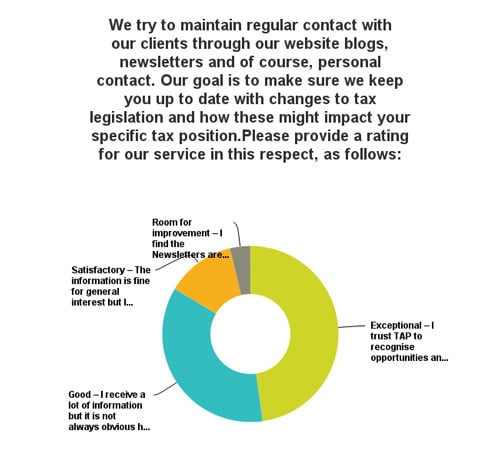 47.76% of respondents felt we were exceptional in keeping our clients up to date, while 32.8% agreed we were good at this.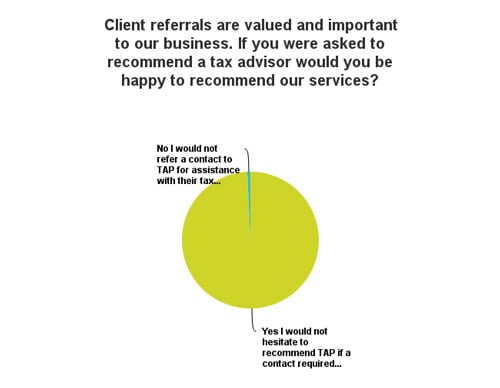 99% of survey respondents said they would not hesitate to recommend TAP if a contact required assistance with their tax affairs.
As part of the survey we also asked clients for specific comments on and feedback on how we can improve their client experience and will be taking appropriate action in response to those comments.
And the Winner is...
Finally, we offered all clients the chance to win a bottle of champagne and are pleased to announce the winner is Lily Jones.
Lily runs a successful bakery and has been commissioned to bake for high profile events such as Elton John's White Tie and Tiara Ball and for fashion houses such as Alexander McQueen. Lily has also had two highly regarded books published 'A Zombie Ate My Cupcake' and 'Sweet Tooth' and her recipes are often published in the national press.
Here's what Lily had to say about us:
"Unrelenting commitment to offering the best service to myself and my company as well as sincere considered advice as my business has grown which has been an invaluable asset.
Always available to assist above and beyond the call of duty with patience, efficiency and honesty."
You can find our more about Lily here: http://www.lilyvanilli.com
If you would like to discuss our survey results or become a client of TAP please do not hesitate to contact us.